First let's just get it out the way since everyone around the world has been talking about it. Congrats to Prince William, and Catherine Middleton on their fairytale wedding, The couple will now be referred to as the Duke & Duchess of Cambridge. Since she is a commoner she cannot be referred to as princess til Prince William is King. But none the less she still looked like a princess
On top of her beautiful dress there was so much stunning fashion at the wedding that we have to share, it is tradition to rock a fashionable hat at weddings which is way far from the norm here in the states but I must say next weddings I go to I will be rock'n a HAWT hat.
Princess Beatrice & Princess Eugenia of York
Miriam Gonzalez
Lady Frederick Windsor
Joss Stone
Victoria & David Beckham
Santa Monte fiore and Tara Palmer
We think that Mrs. Beckham was the best dressed, & we must say that she is working them heels to be preggers! But on a side note we DIED when Joan Rivers said that Tara Palmer's blue hat looked liked a vajay jay.LOL she ain't right at all!!
We also got to see the President's extra long birth certificate thanks to Donald Trump, but it didn't stop there of course Trump gloated about being the one to get his hands on the certificate to show the country. No one knew what our President had up his sleeve at the White House Association Dinner at the Washington Hilton in Washing D.C.
Our President said this While The Donald was there in attendance
I know he's taken some flak lately, but no one is prouder to put this birth certificate matter to rest than 'The Donald, And that's because he can finally get back to focusing on the issues that matter, like: Did we fake the moon landing?
"What really happened in Roswell?
"And where are Biggie and Tupac?"
Yes he took it there LOL, but besides our President clown'n there was a lot of HAWT fashion in the building
Our First Lady looking beautiful like always
Carmelo & LaLa Anthony
LaLa rock'd the Heck outta of this red Dolce and Gabbana gown with Lorraine Schwartz jewelry
Rosario Dawson looking cute in red as well.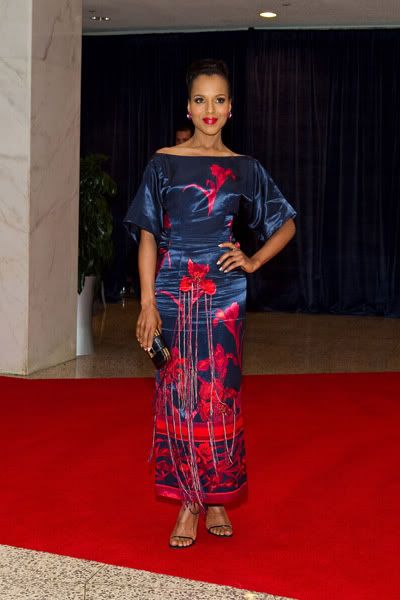 Kerry Washington is always gorgeous but looked great wearing a silky Asian-inspired gown
Cee-Lo Green looked handsome in all black everythang
John Legend & his longtime lady Christine Teigen
Will I. Am bringing it down a level but the bedazzled Bucks are rock'n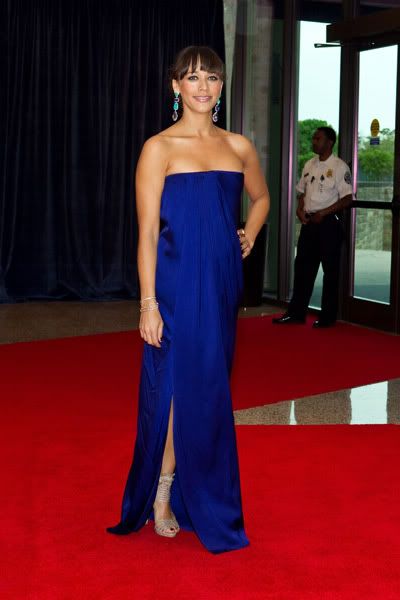 Rashida Jones in looked good in this blue gown.
Russell Simmons & Lyor Cohen not sure about that shirt he got on but I guess when you got money things like that dont matter.
Last but def not least is the death of Osama Bin Laden
Nearly ten years after the September 11 attacks he took credit for, Osama Bin Laden is dead. Deets inside....
According
to the
Washington Post,
American officials says Osama bin Laden was shot and killed in a mansion close to the Pakistani capital. And during a televised message to America,
President Barack Obama
made these
remarks
....
THE PRESIDENT: Good evening. Tonight, I can report to the American people and to the world that the United States has conducted an operation that killed Osama bin Laden, the leader of al Qaeda, and a terrorist who's responsible for the murder of thousands of innocent men, women, and children.
It was nearly 10 years ago that a bright September day was darkened by the worst attack on the American people in our history. The images of 9/11 are seared into our national memory -- hijacked planes cutting through a cloudless September sky; the Twin Towers collapsing to the ground; black smoke billowing up from the Pentagon; the wreckage of Flight 93 in Shanksville, Pennsylvania, where the actions of heroic citizens saved even more heartbreak and destruction.
And yet we know that the worst images are those that were unseen to the world. The empty seat at the dinner table. Children who were forced to grow up without their mother or their father. Parents who would never know the feeling of their child's embrace. Nearly 3,000 citizens taken from us, leaving a gaping hole in our hearts.
On September 11, 2001, in our time of grief, the American people came together. We offered our neighbors a hand, and we offered the wounded our blood. We reaffirmed our ties to each other, and our love of community and country. On that day, no matter where we came from, what God we prayed to, or what race or ethnicity we were, we were united as one American family.
I don't totally agree that Bin Laden was totally responsible for the attacks but never the less happy that an evil like that is gone from the Earth. We think.............