Word around town is that Miss Nicki

Minaj

is on the verge of releasing her very own fashion collection. The rapper that never mentions everything she dabbles in has already made major success with the drop of her very own pink shade of M.A.C. lipstick as well as some

HAWT

nail colors from

OPI

coming soon. Next on her to SLAY list is taking on the fashion industry, her manager Cortez Bryant, tells the New York Times he's got a top priority for 2012 - "to negotiate a deal with a fashion house so Ms.

Minaj

can sell her own line of clothes".
So tell me

HAWTies

, would you wear a line by Miss

Minaj

. Do you all think that the collection may reflect some of her past looks or do you think we can expect something outta the box, which I would think we be something totally normal for Nicki. But you never know, what type of style or which personality would be styling the line. Honestly I intrigued as to what she will be designing. But what I would like to know is that would any of you wear or

buy

(for a friend) Nicki's collection?
Pssssst

....... Dont forget that Nicki has friends in all kinds of places, with friends like Anna

Wintour

she is bound to have a few to die for items in her collection.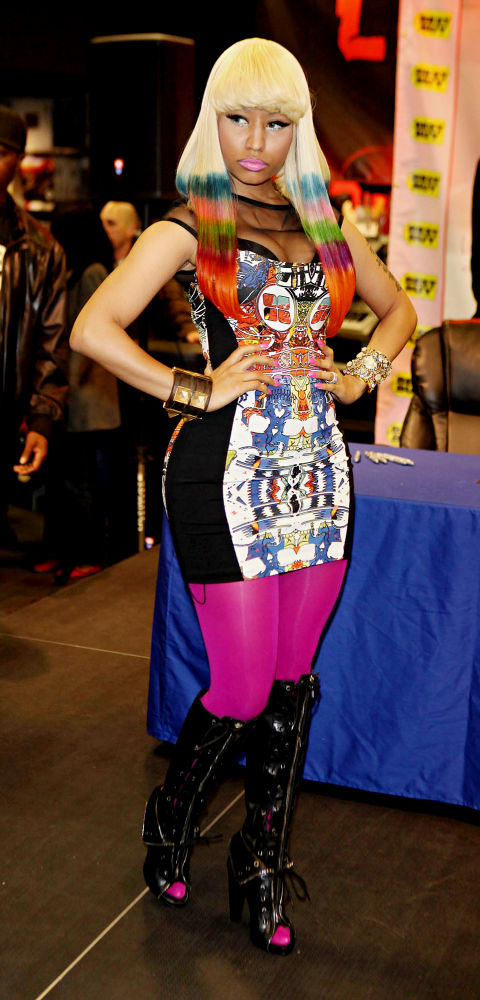 Nicki has a very bold sense of style & many would dare attempt some of her looks. I cant wait to see what she comes out with.......Now who thinks that her next venture may mimic our older sister

Vivica

Fox's latest thing...........WIGS! Only someone would actually buys Nicki's wigs!